The Grand European Yoga Performance, an international event on the occasion of International Day of Yoga, for the fifth consecutive year.  Yoga Federation of Europe in cooperation with the Prague 1 Municipal District and the Czech Yoga Federation, organizes
THE GRAND EUROPEAN YOGA PERFORMANCE 2018
on the occasion of the INTERNATIONAL DAY OF YOGA
21st June 2018 at 6:00 p.m. at  Václav Havel Square, Prague 1
Join us!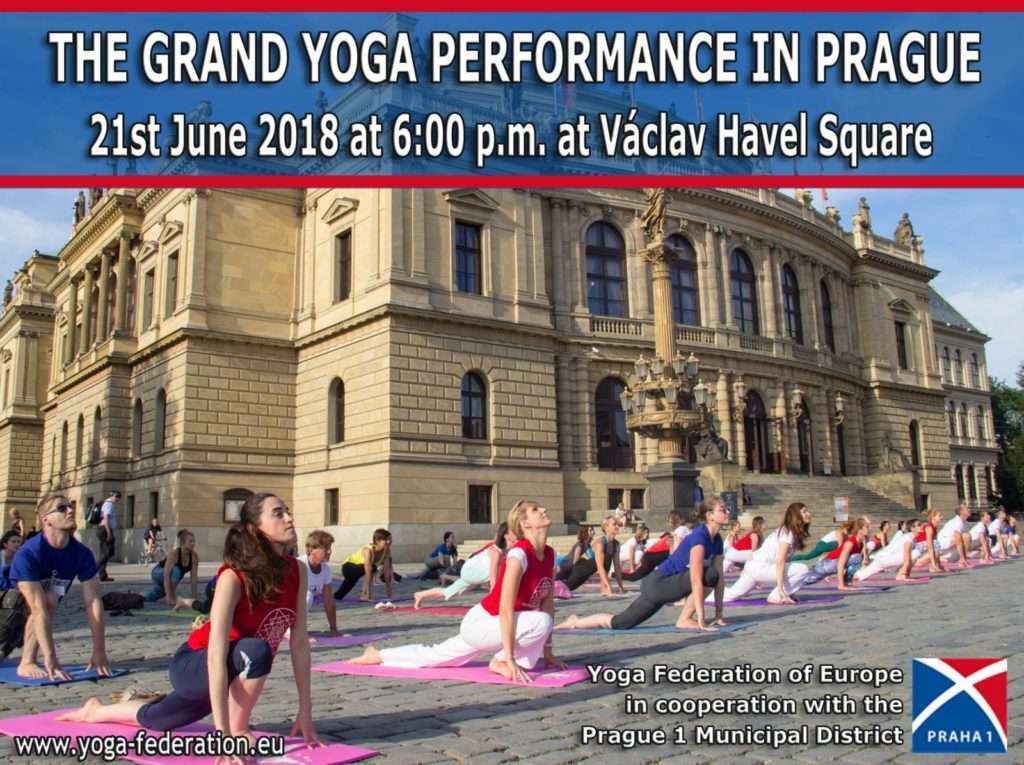 We invite all yoga practitioners to join us at The Grand European Yoga Performance  which will be held on 21st June 2018 at 6 p.m. on the Václav Havel Square in Prague.
Performance on the occasion of the International Day of Yoga will bring together representatives of the Czech Yoga Federation, foreign guests, representatives of the Yoga Federation of Europe as well as students who are attending Yoga Teacher Training Programme at the Yoga Federation Europe (program accredited by the competent ministry), representatives of municipality Praha 1, representatives of the Ministry of education, youth and sport, eminent citizens, media and representatives of the Embassy of India.
The performance will consist of Surya Namaskar (Sun Salutation) series and other yoga techniques that yoga teachers and practitioners will conduct along with the silent music and play of the members of Art Yoga Similiris group.
The performance will begin at 6.00 p.m. with a program of physical yoga exercises (identical for all participants), with a silent musical accompaniment that will signify a new yoga posture like a bell time.
For more information, please, contact us: yoga.yfe@gmail.com
PARTICIPATION IN YOGA PERFORMANCE IS FREE OF CHARGE.
This post is also available in: Czech