THE GRAND EUROPEAN YOGA PERFORMANCE 2019
5th May 2019 at 4:30 p.m. at  Václav Havel Square, Prague 1
Join us!
Yoga Federation of Europe in cooperation with the Prague 1 Municipal District, National Theatre Prague,  International Yoga Academy and the Czech Yoga Federation, organizes Grand European Yoga Performance,  for the sixth consecutive year.
The performance promotes health and a healthy lifestyle, sport and the art of movement. The event is held under the slogan: Do Good – Reward Yourself.
Performance will bring together yoga instructors, foreign guests, students attending Yoga Teacher Training Program at the Yoga Federation Europe (program accredited by the competent ministry), representatives of municipality Praha 1, participants of the project Yoga 50 Plus, as well as citizens and visitors of Prague who will be invited through the media to participate in joint exercises.
PARTICIPATION IN YOGA PERFORMANCE IS FREE OF CHARGE.
BRING YOUR YOGA MAT WITH YOU AND JOIN US IN JOY AND GOODNESS.
For more information, please, contact us: yoga.yfe@gmail.com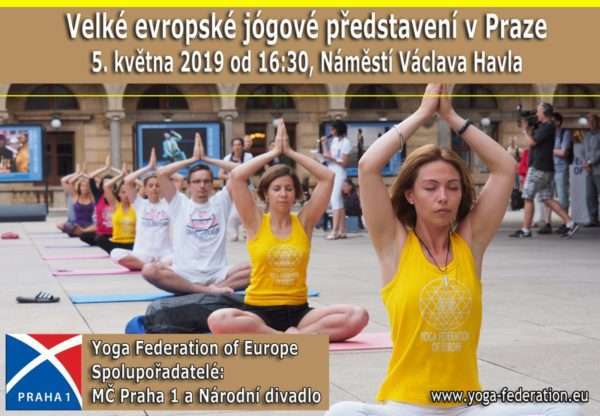 This post is also available in: Czech